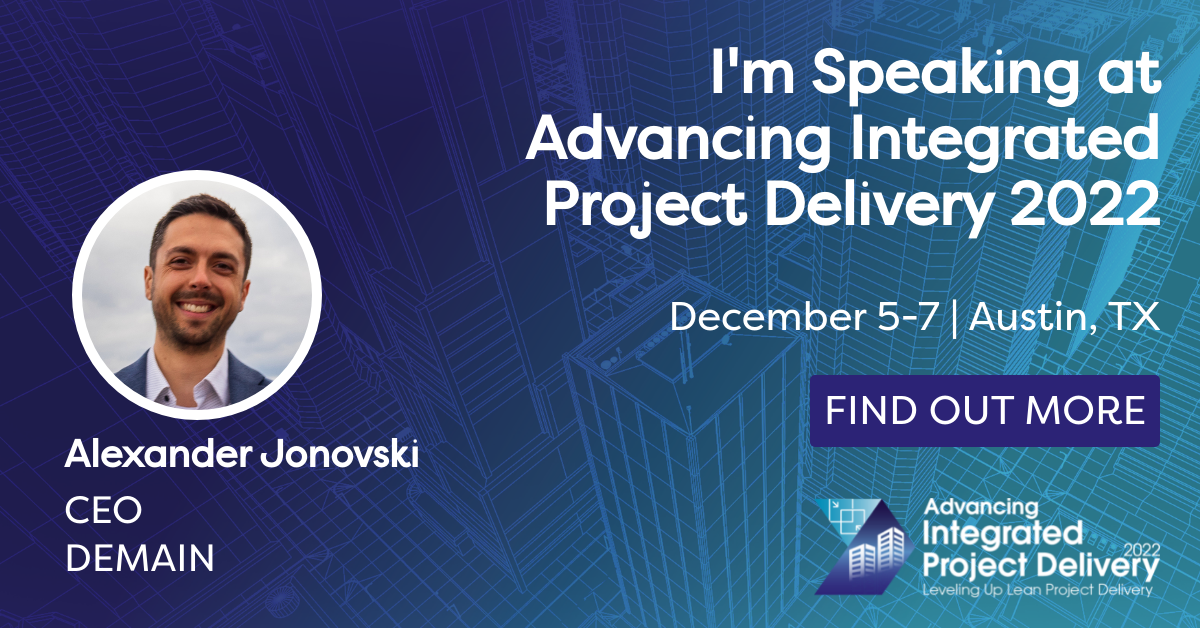 Demain CEO to Speak at Advancing Integrated Project Delivery 2022
Alex Jonovski, CEO of Demain, will serve as a panelist at Advancing Integrated Project Delivery (IPD), held on Dec. 5-7, 2022, in Austin, Texas. As the only conference in North America targeted on driving forward IPD, Advancing IPD is on a mission to transform efficiency, innovation and certainty on some of the nation's most complex projects.
In the session "Building and Maintaining a Lean Culture Independent of the Contract," Jonovski and his co-panelists will discuss how to benchmark the most successful initiatives to establish a solid foundation of trust among the entire project team. Attendees will also discover how to maintain culture — even through transitions in personnel — and how to determine and set clear metrics to track the success of their culture, whether their team is maintaining lean practices, and ensure they don't lose sight of the importance of culture throughout the project.
Co-panelists include Robert Bostwick, managing partner, Bostwick Design Partnership; Vinson Chapman, vice president of audit and contract services, Hoar Program Management; Karen Conrod, project executive, Herrero Builders; and Julie Glassmeyer, owner, Glassmeyer Construction, Consulting & Coaching, LLC.
Jonovski is a frequent guest speaker on integrated delivery models and leveraging data across the design and construction value stream. He has presented at several national conferences including Autodesk University, Advancing Prefabrication and Prefab CONNECT, among others.
For more information or to register online, visit the Advancing IPD website.
About Demain
Demain is a national consortium of like-minded member firms in the AEC industry providing strategic consulting, design, manufacturing and installation services. United through data, custom software and an inter-company IT infrastructure, Demain and its member firms provide a seamless project delivery experience.
Contact
Alex Jonovski, PE
Chief Executive Officer
alex.jonovski@buildingdemain.com