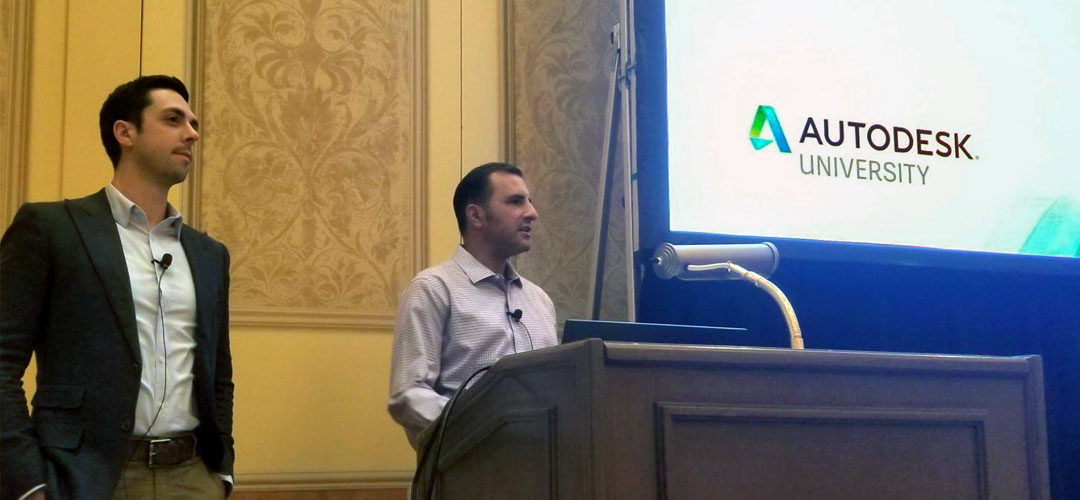 Above: Alex Jonovski (left) presents with Jim Tavernelli, president of KLH Engineers, at Autodesk University 2019.
Demain CEO to Present at Autodesk University 2022
Demain, a national consortium of like-minded firms in the architecture, engineering and construction (AEC) industry, will present at
Autodesk University
(AU) for the second consecutive year. Taking place Sept. 27-29, 2022, in New Orleans, AU features over 450 classes led by industry experts who are progressing architecture, engineering, construction, design, manufacturing, and media and entertainment.
Alex Jonovski, CEO of Demain, will present "Demain's Journey from Strategic Partnership to Commercial Entity" on Sept. 29 at 8:00 a.m. CST. Jonovski will discuss how the Demain consortium uniquely evolved into its own commercially viable entity that leverages data and manufacturing to unite the value stream and productize the delivery of construction.
Participants of this session will learn why Demain was founded, the challenges it had to overcome, and how it's evolved over the years. The projects chronicled in this case study will provide real-life examples of how strategic partnerships can drive the industrialization of construction and how integration though data offers a compelling alternative to vertical integration. Lastly, attendees will discover new insights that will help them implement their own industrialized construction workflows.
Jonovski will be available for one-on-one meetings throughout the conference. To schedule a time, please reach out to him directly at alex.jonovski@buildingdemain.com.
To register for the in-person conference or the free digital pass, visit the AU website.
About Demain
Demain is a national consortium of like-minded member firms in the AEC industry providing strategic consulting, design, manufacturing and installation services. United through data, custom software and an inter-company IT infrastructure, Demain and its member firms provide a seamless project delivery experience.
Contact
Alex Jonovski, PE
Chief Executive Officer
alex.jonovski@buildingdemain.com